If you are a college student then you know how expensive things can be.
From food to room and board, things can get pretty tight as each semester rolls by.
Some students get a part-time (or full-time even) job to help pay the bills (and the fun stuff). You may want to do this too, but you should know there are options for making money online. For example, there are writing jobs that you can do in your free time for cash.
We will cover some online jobs that you can do as a student to generate some extra money while you go to school.
These jobs are generally easy enough, and some could really make some good money if you put in a little time and effort.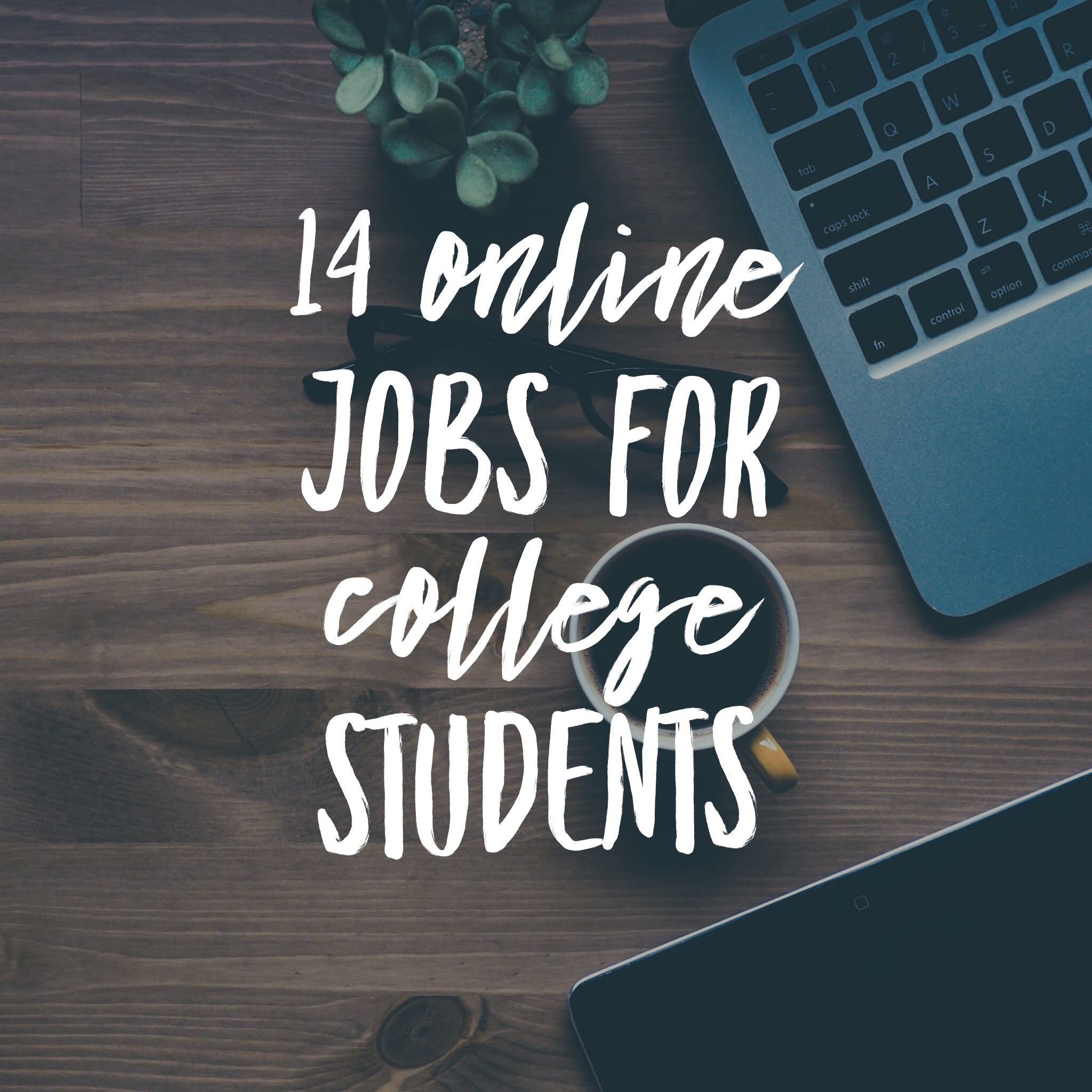 1. Start a Website
The absolute best way to start making money online is to start your own website. This can take several different forms, from a basic blog, an ecommerce store, or selling courses.
Get started by creating a website at Bluehost.com.
An affiliate website is a good way for a beginner to make a few bucks. As you gain experience and traffic you can build this up to several thousand dollars per month.
If you are interested in ecommerce a good introduction is to start dropshipping stuff. This is a popular niche, and although it may be oversaturated, it is a good way to get your feet wet.
Building a website is like building a brand. It is not a "job" exactly, and it may take a while to build a respectable income. If you are interested in quick cash, then this is probably not the way you should go.
If you are interested, then Wealthy Affiliate has a great program for beginners.
2. Surveys
Surveys can be a great way to add some extra cash to your pocket. One of the best things you can do is complete a survey every now and then and eventually you can send the money over to your paypal account or get a gift card.
It is possible to make several hundred dollars per month taking these surveys.
Survey Junkie
Survey Junkie is one of the options for getting paid to complete surveys. You can get about 10 dollars in an hour or two right off the bat.
If you agree to complete some extra steps and even do product reviews, focus groups, etc., then you can earn much more money.
It is all up to you depending on your time and effort you decide to put into it.
Here is a screenshot of the dashboard. I signed up and immediately I was able to earn over a dollar just by inputting my profile information.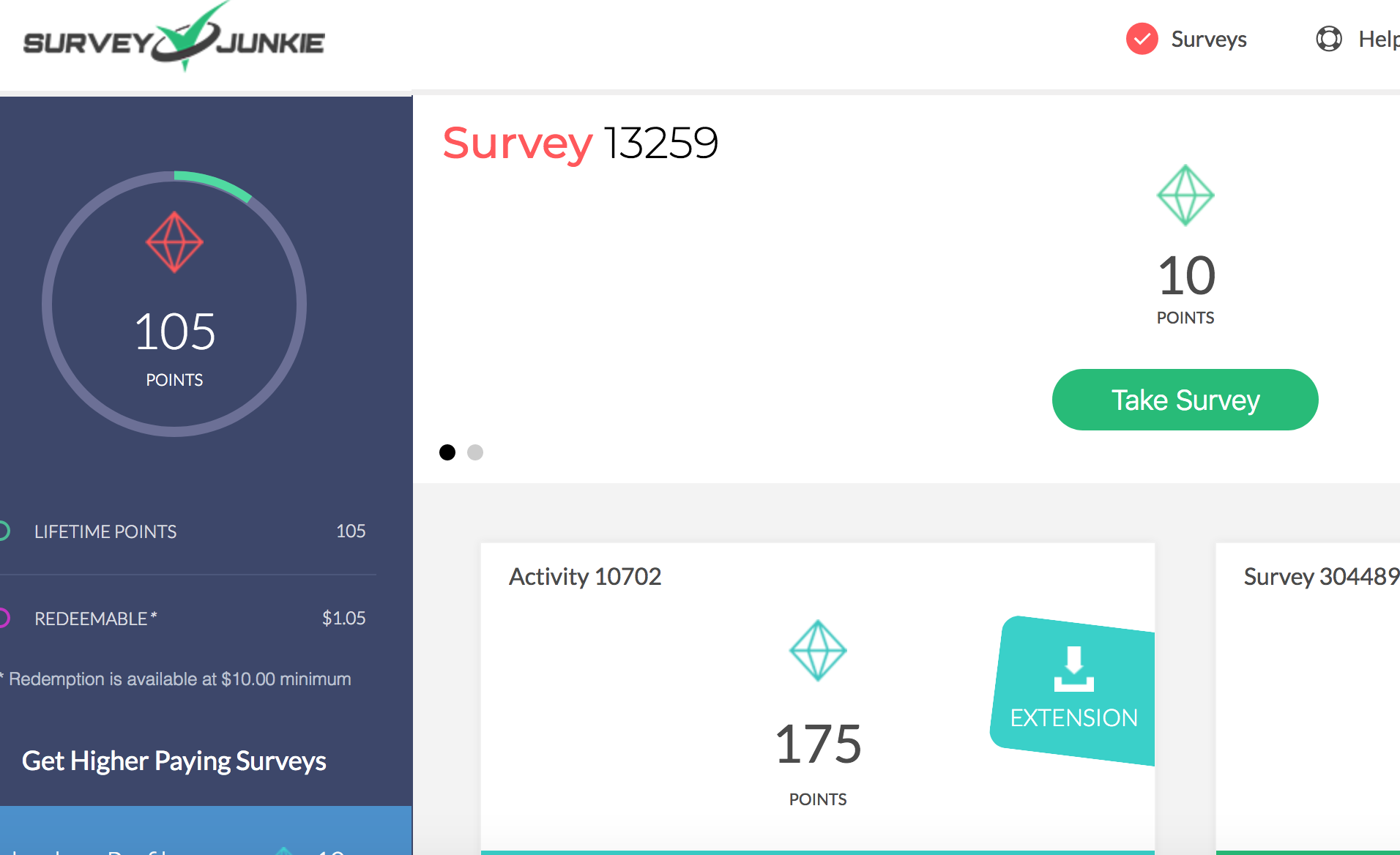 I wouldn't expect to get rich from this by any means, but it will allow you to earn money while you are on your computer with practically zero effort.
Are you good at answering simple survey questions? Then this is a great option to consider.
3. Freelance Writing Jobs
If you haven't noticed, websites are mostly made up of text that people have typed. Well, someone has to be the one doing all of the writing.
That someone could be you. If you like to write and are halfway decent at it (no need to be an expert), then you could easily get some freelance jobs writing articles.
There are many options for writing jobs, and I'm sure that you have heard of many of these websites.
Let's go through your writing options and I will explain why each one could be a good fit for you.
With any type of freelance job, the important thing is to meet deadlines. If you can deliver the correct content on time then you will already be ahead of the competition.
The best part about writing in your spare time is that you will get better and better at it. This will help not only your time in college, but also later on when you start working.
Fiverr
Fiverr is a decent option to get started with some freelance writing.
One advantage that you have going into this is that most of the writers available to hire are not very good. You don't have to do a whole lot to stand out.
Simply head over to Fiverr, create a profile and then list some of your abilities. You should be categorizing yourself as some type of writer.
These writing jobs could range from blog articles to research assignments.
Just look at all of the categories of writing jobs there are for you to get involved in.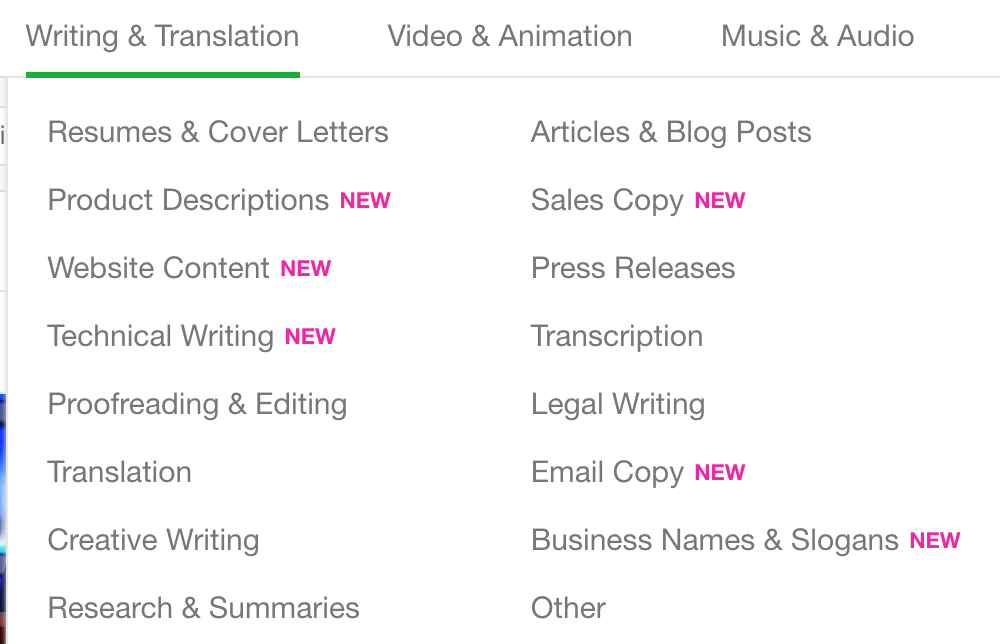 Surely you can do one of these.
Get started, set some prices, and make some money.
UpWork
Upwork is generally for more professional quality work. If you have a specific specialty with some work experience, then you may be able to thrive here.
If you are just starting out, I would still go ahead and create a profile. It won't hurt to try and get some jobs anyway.
You just need to set your prices lower and target easier jobs.
4. Teach Online
There are several programs out now where you can sign up and teach or tutor other students online.
VIPKID is one such program. You can teach from the comfort of your home and even choose your own hours.
You will be teaching 1 on 1 English to Chinese children through this program.
5. Virtual Assistant
A virtual assistant will perform tasks such as writing, responding to emails, managing social media, and handling customer service.
You can apply for jobs like these on various marketplaces like Upwork and Fiverr.
The pay on these jobs can vary a lot, and your work can be freelance style or even full time.
This allows you to have a ton of flexibility and location independence.
Take this course for a basic overview of working as a virtual assistant.
6. Graphic Designer
Do you have a knack for design? If you have a few basic skills you can probably make some cash.
Graphic design is a huge market. Nearly every business needs some kind of help with their visual marketing.
If you are not that savvy with using photoshop or illustrator, you can simply use Canva.com and make Pinterest images for websites. Make a profile on Fiverr and offer to make pins for money.
7. Bookkeeper
A bookkeeper helps a business keep up with finances, statistics, and other important numbers.
You can find a basic part time job as a bookkeeper by making a profile on popular job boards like Fiverr. Other ways of getting a job as a bookkeeper is simply reaching out to businesses you are familiar with.
Cold calling is another way to find a job like this. Just pick up a phone and start hitting up businesses with a pitch for your service. Make sure to explain how they stand to benefit from your help.
8. Create Courses on Udemy
Do you have expertise in a specific area or skill? If you are an expert at playing piano or crunching numbers in Excel, then you may be able to create a course that helps others.
Udemy is a great place to start selling courses, although later on I recommend opening up a website where you sell your courses.
Even if you don't have a particular skill, you can work hard on learning something and then teach others later on.
9. Appcoiner
Appcoiner is a way to make money by reviewing apps.
You need to download an app, and test it on your phone. After testing it, you need to leave an honest review.
You will get paid to leave these reviews. Make more money by leaving more reviews.
Check it out here.
10. Manage Social Media
This job is under the virtual assistant category, but it can be a full time gig by itself.
Businesses need someone to keep up with their social media full time if they want to stay relevant.
This means you could get paid to publish content to Facebook, Twitter, or Pinterest.
If you do this well, you can start running ads on these platforms. Running Facebook ads can be very profitable, and some people charge clients over $5k per month to run ads.
Get started with learning how to manage social media for businesses with this course.
11. Test Websites
You can get paid to test websites. Complete a set of tasks and talk about your thoughts out loud.
This is a great way to get started making money online because the path is set out for you.
Check it out here.
12. Transcriber
You can make money by transcribing speech to text. There are also opportunities to translate text from one language to another.
A beginning transcriber can expect to make between $30 and $50 per hour of audio, which can take 2-5 hours to transcribe.
As you gain experience you can demand higher pay for your work.
Here are a couple websites that offer transcribing jobs:
Transcribe Anywhere: Transcribe Anywhere also offers courses to help learn the skills needed to be a successful transcriber.
Rev: Also offers jobs for translating text
13. Clickworker
Clickworker is based on the concept people performing small tasks online like correcting text or doing surveys.
You can make money by completing these small jobs.
They can be a whole hose of different jobs like proofreading, copy editing, surveys, web research, and even app testing.
Check it out here.
14. Create Videos
You can make videos for businesses and websites by learning a few editing skills.
Videos are a great way to get attention, and businesses need some way to make them. What better way than to hire someone like you for that task?
If you already have some experience with making videos then even better.
I don't mean taking the actual footage yourself, I am simply talking about taking the footage and editing it together in an attractive way.
You can create a Fiverr gig for this and start taking orders.
Conclusion
Making some extra money while in school is a great way to keep your debt under control (or prevent it altogether), and have cash so you can do the things you want.
You may even find a job or business that is great and not see the need for staying in school.
Either way, I hope you find something valuable in this list and are successful in your endeavor.